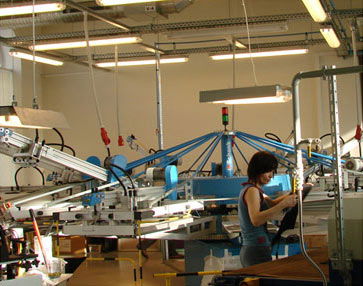 We are not the type of company who likes to talk too much about ourselves. Instead we prefer to let our product quality and service to speak for us. Screen printing is our specialty. We have high standards to meet your expectations. With an office based in Wolverhampton, we are a fast growing screen printing supplier with the aim to provide our customers in Birmingham, West Midlands, UK and Europe with a reliable, fast, efficient and premium service.
Our machinery allow us to produce in large scale and supply t-shirts, clothing, bags, parasols and a wide range of printed garments. From traditional screen printing to digital techniques we offer a wide variety of choices and services, without sacrificing quality for our customers.
We use water-based, plastisol, silicon and other inks to offer the best definition to the final product. But don't take our word for it, get in touch with us and we will think to the rest.